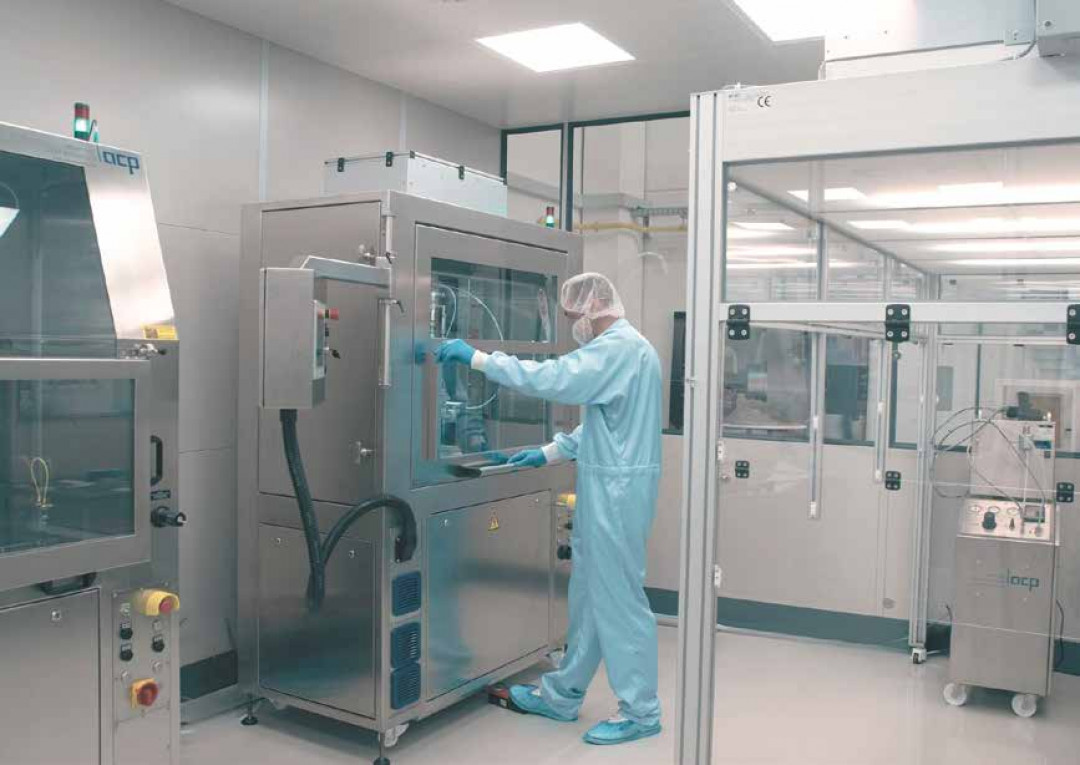 18.09.2023
Cleanroom technical centre expanded
acp systems, Ditzingen, has expanded its test capacities for cleaning trials. The design and equipment of the new cleanroom pilot plant enable customers to carry out cleaning tests up to cleanliness class ISO 5.
For high-purity components, particulate cleanliness requirements down to the submicrometre range and extremely high cleanliness levels with regard to filmic-organic and inorganic residual contamination must be met. acp systems AG has reacted to these changes with cleanroom-compatible solutions for its quattroClean snow blasting technology. This is a dry process for the cleaning of entire surfaces or parts of components. The cleaning medium is climate-neutral liquid carbon dioxide, which is fed through a wear-free two-substance ring nozzle, expands to form fine snow particles and, bundled by a jet of compressed air, removes particulate and filmic contamination from the surface to be cleaned by means of four mechanisms of action.
To enable customers to carry out cleaning trials, a cleanroom pilot plant was built in Ditzingen and completed in mid-June 2023. The basis of the new pilot plant is a validated clean room of class ISO 7 with zones up to class 5 according to ISO 14644-1. According to the company, the design and equipment of the two integrated JetStation-HP cleaning systems also meet the high requirements of clean room class 5. The media treatment for the liquid carbon dioxide is designed to ensure a purity of the process medium of 99.995 per cent. The compressed air preparation guarantees quality 1.2.1. according to ISO 8573-1:2010. Integrated into this ultra-clean media supply for the compressed air (XCDA) is also a gas scrubber that filters out traces of organic substances so that the air quality required in semiconductor production, for example, is produced.
The new cleanroom pilot plant thus opens up the possibility of carrying out cleaning tests and feasibility studies on a very broad spectrum of components with extremely high cleanliness requirements, for example Grade 1. This includes components that cannot be cleaned wet-chemically due to their dimensions or because they are already pre-assembled, or for which the required cleanliness cannot be reproducibly achieved with previously used processes. Various detection technologies are available for checking the achieved cleanliness. Any necessary transport of the cleaned components is carried out in packaging suitable for cleanrooms.