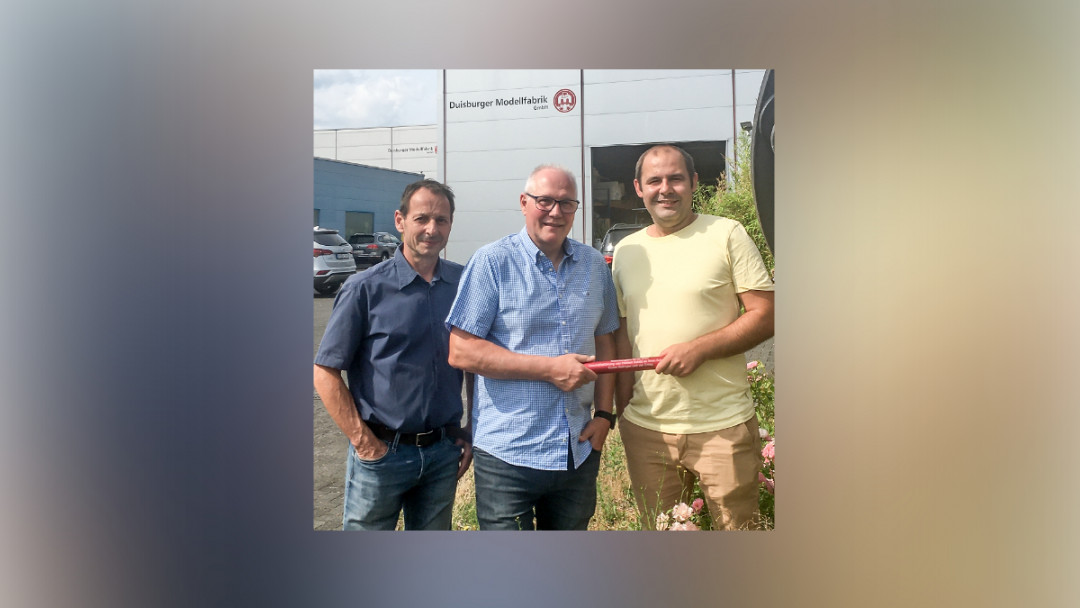 29.08.2023
Passing the baton at Duisburger Modellfabfrik GmbH
At a company celebration at the end of June, Herbert Schild handed over the baton to Sven Scheidung, who took over the majority shares of Duisburger Modellfabrik GmbH on 1 July and has since been running the business together with Martin Jäger.
What looks like a formal act in the photo turned into an emotional rollercoaster for Herbert Schild during the course of the event, as he had to officially say goodbye to his own professional life's work: After training as a model carpenter at Thyssen Niederrhein and coming fourth in the German championship, he started working as a foundry model maker at the Duisburg model factory Gebrüder Hammacher GmbH in 1979. In 1996, together with two other employees, he took over the company from the two grandsons of the founder Wilhelm Hammacher, after it had previously been in the family for 99 years. At the beginning of 2000, the company moved to the left side of the Rhine to Duisburg-Rheinhausen into a larger and more modern hall, which was followed by others over the years. With the purchase of a second-hand CNC milling machine in 2003, initiated by Herbert Schild, a phase of technological innovation began, which continues to this day with the acquisition of further CNC milling machines, CAD workstations, 3D printers and an optical measuring system. In 2009, Martin Jäger joined the management team after the two previous co-managing directors retired. Today, the Duisburg model factory is one of Germany's top addresses in the field of large foundry models.
In addition to his honorary commitment as head of the Düsseldorf Model Makers' Guild and vice-president of the Federal Association of Model and Mould Making, Herbert Schild has always been committed to training and further education in his own company. Of the 30 employees today, five of whom are apprentices, two thirds are "home-grown". This is also the case with Herbert Schild's successor Sven Scheidung, who began his training at the Duisburg model factory in 2011 after dropping out of university and passed his master craftsman's examination in 2015. As the current BVMF Vice President, Sven Scheidung is also continuing Herbert Schild's life's work in this respect - in his own way and with new ideas.