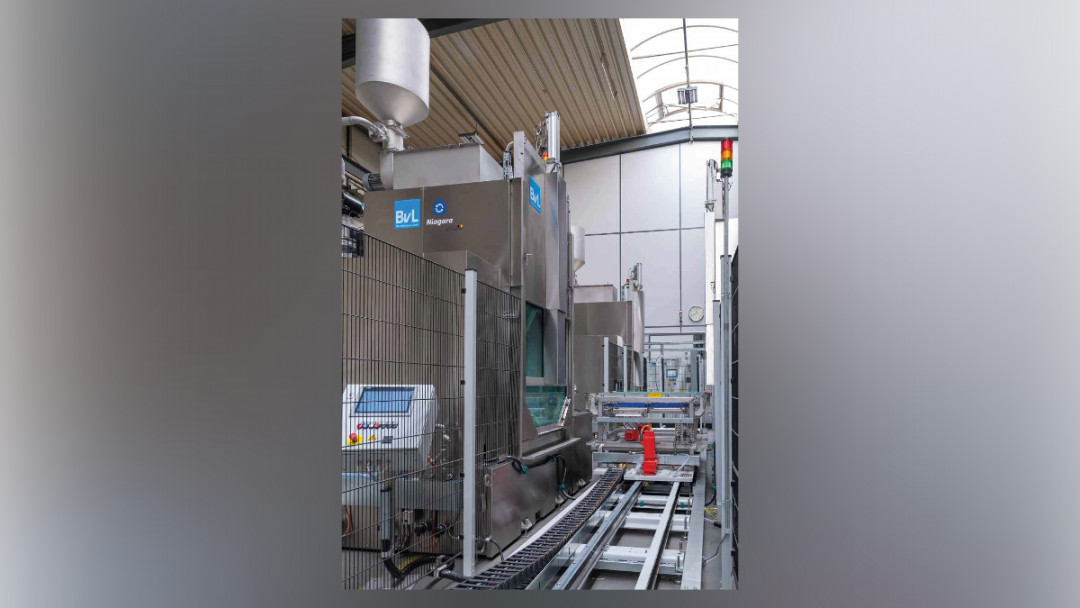 31.08.2023
Short cleaning cycle times
The automated BvL cleaning system NiagaraDFS promises short cycle times even when cleaning gearbox housings of different heights.
The cleaning system has a four-chamber system that works in conjunction with an efficient shuttle transport system and is said to enable a high throughput of 14 batches per hour. According to the company, a special feature is that gearbox housings of different heights can be cleaned in a single chamber. Thanks to adjustable hold-downs that automatically adjust to the respective batch height, the gear housings of different heights are securely fixed during rotation in the washing process. This system enables the cleaning of gearbox housings with height differences of up to 80 mm. The rotation of the workpiece pallets during the washing process is designed to ensure thorough cleaning from all sides. A renowned German gear motor manufacturer has already successfully implemented this cleaning concept from BvL Oberflächentechnik GmbH in a plant in China.
The optimised interface communication promises seamless integration of the cleaning system into the customer's driverless transport systems. Information is recorded and evaluated at the cleaning system to provide the user with real-time data. An interface to the database server in the customer's network provides complete transparency and forms an ideal basis for reliable production analyses.
At BvL Oberflächentechnik, automation and software programming experts are on hand to meet customer-specific requirements for IT interfaces and databases. This includes, among other things, seamless integration with upstream and downstream systems as well as higher-level IT systems. Thanks to a modern remote maintenance system, rapid error diagnosis and its elimination should be possible online. Both software updates and changes can be easily imported at the customer's site.
Operation is possible via fixed control panels and mobile control panels. The Smart Cleaning concept offers, among other things, a consumption forecast for bag filters. This function visualises the current contamination status of the filter bag and provides information on when the filter needs to be changed. This facilitates the planning of maintenance work and the stocking of spare parts. The Libelle Fluid Control used measures the degree of contamination of the cleaning fluid via a sensor. This process control enables the system operator to react to changes in bath contamination and ensure constant component cleanliness.