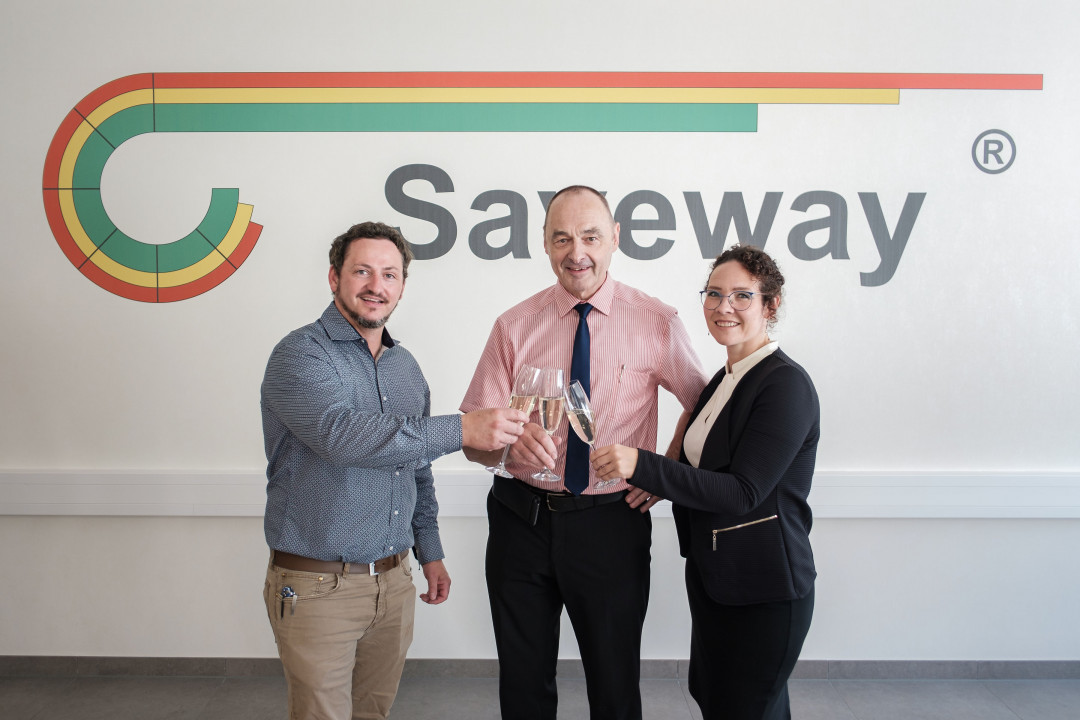 22.08.2023
Generation change at Saveway
On 15 August 2023, Nadine Hopf and Steven Reumschüssel will take over the management of Saveway GmbH & Co. KG in Ilmenau/Langewiesen after 32 years and replace the founder and sole managing director, Dr Manfred Hopf.
Dr. Hopf not only gave Saveway the go-ahead for its foundation through his inventive spirit, but also successfully set up the company in 32 years and strategically aligned it internationally. Far from it, if one might now believe that he is retiring into a well-deserved retirement after 32 years of uninterrupted service to the company. He will now work as managing partner in Saveway Holding GmbH and organise the uniform orientation of the entire company worldwide. The main company headquarters and sole production site for the group of companies will remain Saveway GmbH & Co. KG at the Ilmenau/OT Langewiesen site. Saveway Holding GmbH will also have its headquarters in Langewiesen near Ilmenau.
Ideally, the change of managing director had already been initiated 4 years ago, so the two deputy managing directors are not taking on a completely new area of responsibility, but are already moving in familiar territory. On 15 August, Mr. Steven Reumschüssel will assume full responsibility for the technical management, and Ms. Nadine Hopf, daughter of Dr. Manfred Hopf, will take over the commercial management.
The outgoing Managing Director, Dr. Manfred Hopf, commented on the change of Managing Director: "It was a very exciting task to build up and manage Saveway according to my vision over 32 years. We only managed to do this with the help of all the employees who supported the company. I wish the new managing directors and the Saveway team every success! I would like to thank all my business partners and friends for the constructive cooperation, for the cooperation in the BDG working group on induction furnaces and for the numerous refreshing discussions at conferences and other events! In my new position, I will of course be available with my knowledge and experience wherever necessary".
Nadine Hopf also commented on her assumption of office: "I am honoured to take over parts of my father's position at Saveway and thank him for his trust in me as a person. It is a challenge to follow in his footsteps. The new generation will try to incorporate what we have learnt from the past to set the company up for the future. The unexpected economic and political changes of the last 3 years present us as a medium-sized company with partly new challenges. Steven Reumschüssel and I have been working for many years to speak as a management team with one voice internally and externally and to bundle our expertise for the company and our customers in a profitable way. The new management is looking forward to further expanding Saveway's strong market position with a committed team of employees. This includes the cooperation with our service and sales locations in Japan, USA and South Africa. Together we will continue our success story, remain innovative and take advantage of the opportunities the market offers."
With its leading refractory monitoring solutions, Saveway is one of the pioneers of safe and efficient plant utilisation in the foundry industry. Saveway is a reliable partner for many well-known foundry and steelworks companies around the globe. As of 14.08.2023, Saveway has 80 employees worldwide.